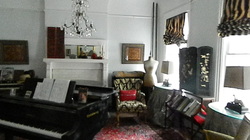 DESIGN TRENDS

When I worked in retail I was often asked, "What's the new hot color?" or " What's hot in decorating now?". A difficult question for me: not because I don't know the answer, I read decorating magazines and look at style blogs, but difficult because as a design professional, it is my job to educate the customer. Better houses, I would tell them, have rarely followed trends. They result from a combination of inherited or found pieces, and additions to those pieces bought with thoughtfulness and affection. Houses , I told the customers, should look evolved. The color predictions for 2014 are, among other colors, a deep aqua blue and purple. These colors often provoke strong reactions: if you absolutely cannot abide purple, why should you use purple?

Unfortunately, your color choice or style might not be available. There are folks in the background of the design industry deciding what the new color and style trends should be. These trends are based on changing technology, references from popular movies or television, popular hobbies, and, of course, arbitrary choices to insure that the market will be able to sell you something new.

Obviously, this insistence on new things assures that there are elements that will date your rooms. How about the old formula of a plaid, a floral, and a stripe. If you walked into that room in 2013 you would think, OMG, how nineties. If you walked into a room of mirrored Parsons style furniture with velour upholstery, you'd more than likely think of Miami Vice. But, you could use elements from either of these rooms (on second thought, please don't take anything from the Miami Vice room) and incorporate them into an attractive space.

Let's look at some trends that are totally out of style now: oversized sofas and chairs with huge arms, brass Williamsburg style chandeliers, ragged walls, shabby chic and the list goes on. Oh, by the way, real shabby chic involved taking things from your grandmother's attic and garage to the beach house because the stuff was going to get wrecked anyway, not buying expensively new but falsely worn furniture. People will try to sell you anything. If you don't listen to your own tastes, you will be wearing the emperor's new clothes.

I remember the now out of print, Parish Hadley by those doyens of American decorating, Sister Parish and Albert Hadley, was remarkable in that the rooms were timeless. There was one exception. It was a 1960's redo of a beautiful timeless room also pictured in the book. It looked sort of silly and "What were they thinking". If you decorate with trends, you will insure planned obsolescence and will be challenged to redecorate as often as you change your wardrobe. Most of us can't afford to do that, nor would we want to.

Take a look at what you love and answer your decorator's questions honestly so that you can determine the best look for you. No need to run with the pack. Be brave and let your inner you shine. You will be more comfortable in the long run. Good style is timeless.