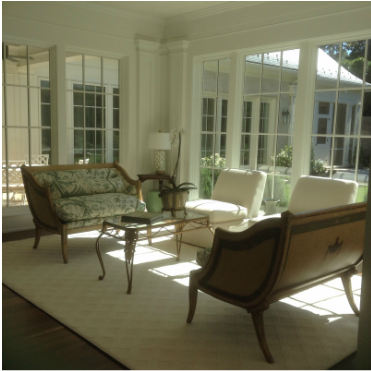 After two years of design and building, my clients were eagerly anticipating moving in to their new house. They had worked diligently with architects at a well known local firm to create their perfect house. The couple was delighted with their every nuance and often remarked on how attentive tandem patient they had been.
In the spring of 2014 I found a pair of very unusual antique settees at the Highpoint furniture market. We put a spring like Brunswig et Fils document toile on them and the style of the house was set. The solarium where the pieces were to go, is immediately seen from the front door. The house was designed to draw you all the way through to the courtyard in the back. All of this dictated that the solarium be dressed symmetrically. We were able to find a pair of antique corner tables used in the room where George and Martha Washington spent their honeymoon.
The owners and I quickly realized that the front hall held a perfect view of the river. In order not to obstruct the view to the solarium, and to honor the view of the river, we opted not to use the traditional round foyer table or console table flanked by a pair of chairs. Instead, we added a long, clean lined sofa with two side tables which provided seating to view the river and at the same time anchored the beautiful staircase.
​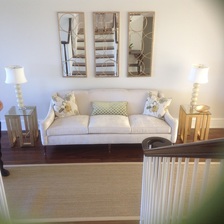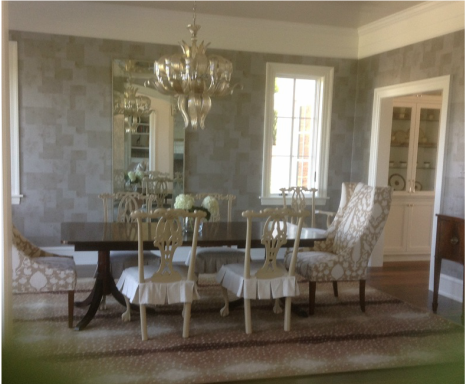 The hallway is flanked on either side by a dining room to the left and a library to the right. We kept the feeling somewhat informal by adding seagrass runners in all of the hallways. We wanted some drama in the dining room but simultaneously wanted to keep the house fairly neutral. With such magnificent architecture, it seemed imperative not to interfere with the design, just enhance it a bit. We decided on the Brunswig et Fils Erte silver tea leaf paper with a Farrow and Ball high gloss ceiling to provide the drama. In a nod to humor, we lacquered and slipcovered the Chippendale chairs and added a fantastic glass chandelier.
​An antelope rug completed the room.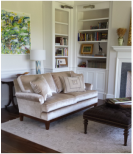 The library was designed around the owners favorite painting and included a niche for it on the back wall. When I met with the architects, we decided that there should be not hardware on the cabinets below the bookcases. The effect is of wainscoting, not cabinetry. This room is the perfect place to enjoy a glass of wine and a magnificent sunset over the river. The solarium was created as the women's perching spot with the idea that the library would be more comfortable for the men. We chose a velvet sofa and two swivel chairs covered in a great Zoffany print. With the addition of the owners books, leather ottoman and accessories, we were able to find a terrific lamp to complete the room. An Alexa Hampton alabaster globe hangs from the ceiling. The mirror over the mantle reflects the floor length mirror and the glass chandelier in the dining room.
​It has been such a pleasure to work with this couple. They came into the process having done a lot of research and with some predetermined ideas, nonetheless, they remained open to suggestions. They have impeccable taste and made the whole experience energizing and gratifying.
The house is still in progress. I look forward to completing the project with them.
Best, Claire