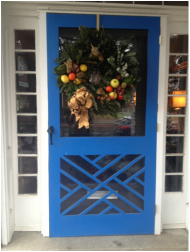 Merry Christmas! I have been so busy working Special Events at the Virginia Museum of Fine Arts ('tis the season) I have neglected to past on Seasons' Greetings.

For the first time in almost eighteen years, I have been able to reconnect with Christmas. Perhaps working in the retail industry numbed me to the Christmas spirit; maybe a grandchild has renewed my life. It could be that a prolonged period of mourning my parents has finally passed. May be it's all of the healing that has taken place in my very dear family or that I find myself newly in love with my husband. It could be all of the above. I am grateful to have reconnected with old friends and made new ones.

Russell and I hosted a Christmas party for old friends and fellow workers from the VMFA last Saturday night. Everyone brought food and good spirits; Rita baked her famous juicy Cuban empanadas; Ed played carols on the piano and there was lots of singing to usher in the holiday.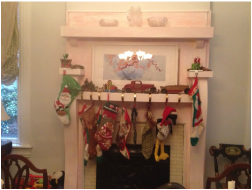 Our Saturday night friends failed to drink much of the Legend Pilsner keg. Yesterday Russell called a few of his young friends from local bands. Several brought their horns, Russell accompanied them on the piano and a good time was had by all. They also helped "float the keg".

Today, one of my co-workers at the museum who couldn't come on Saturday, brought her eight week old puppy, Slim, to visit. Nothing like puppy kisses at Christmas.

I have enjoyed decorating: making the Della Robbia wreath ; hanging the stockings; and three days of decorating the tree. Most of all, I have once again realized that, ultimately, we have nothing if we don't keep our families and friends close: their visits have given us the best Christmas we have had years.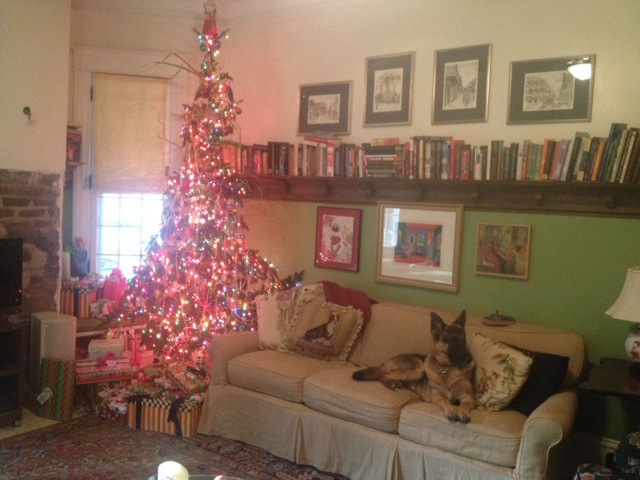 Here's Oliver enjoying the Christmas tree. I wish all of you a relaxed and happy holiday. We'll get back to decorating after the new year.

Best, Claire