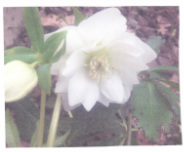 Why and when did we forget about the virtues of white interiors?

When I was a child, people often painted their interiors in shades of white or off white. I can only remember seeing a deep green and a navy once each. For the most part, the wood work was the same off white color as the walls.

Sometime in the mid-sixties, a Colonial Williamsburg decorating craze swept the East Coast. Walls were painted whitewash white and the trim a darker contrasting "Williamsburg" color. (Upon further research by the Colonial Williamsburg foundation, these colors proved to be not vivid enough.) I remember this style lasting into the late seventies.

Sometime in the eighties, in some neighborhoods, the dark painted wood work was replaced by wood trim, which still looked vaguely colonial and, frankly, a bit Little House on the Prairie. I'm glad this didn't last long but it had long lasting residual effects. Even though the wood trim darkened rooms and looked rustic, many husbands balked at the thought of covering all of that wonderful wood. I'm sure there were many decorating spats over this- just like painting an ugly brick fireplace. Oh, I forgot to mention that most of the houses built with the wood trim contained a room with dark wood wainscoting. Try getting him to paint that! (Sorry to you fabulous men who agree with me or your partners: these comments are based on years of empirical learning.)

Now we're into the early part of this century. Several things happened here culminating in many decorating victims. There was the Crayola box house where every room is painted a different "fun" color and which often caused waves of nausea on unwitting guests. The wood work now is some version of white creating a graphic nightmare. Unfortunately, this is still being perpetrated by the unthoughtful and misled. This fad, unfortunately led to the faux finish fiasco. Please don't get me wrong, I have several friends who made quite a good living from their artistic abilities. However, the DIY'ers often "ragged" their walls and the result was often a bad version of kindergarten finger painting. Faux finishing still has it's spectacular uses as in gold leaf ceilings, marbled fireplaces, and tortoise shelled curtain rods but please let a qualified professional do it. It really shouldn't look like it was lovingly made by hands at home.

All of this coincided with the proliferation of the McMansion and the concomitant two story rooms and open floor plans (just where do you start that purple color and where do you begin the gold?) This excess was often accompanied by overly ornate wood work in houses that didn't deserve it and often it wasn't even wood.

So, now you have heavy wood work, red walls and the requisite contrasting white trim. Lord, where does it stop? Some brilliantly wise decorator realized that if you had all that wood work, maybe the shape was enough and it could be painted the same color as the walls. Halleluja, we're getting there.


So, Blessed relief. Now we have a return of white and off white walls. Lovely, lovely white: so many choices and so many subtle differences. We have moved into the age of nuance and sophistication. With that comes a relaxed elegance and confidence. The scores of variation on white are luscious.

I'm often asked if you can use more than one shade of white in a room. Please do. If you match all the whites, your room will be uncomfortably flat, cold, and sterile. White combinations are nearly endless. Keep in mind that white distributes light evenly and reflects whatever color influences which surround it. White in a room on the water (in this case I've used Ralph Lauren's tuxedo white successfully) will differ tremendously from white in a house in the woods. (I often go more grey or more taupe based white in these rooms.)

Give your eyes a rest, your blood pressure a break and consider white for your walls. You don't have to limit yourself to one boring shade either- there are lots of them!